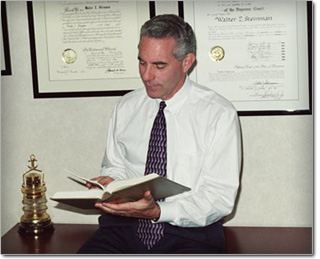 PRACTICE AREAS
Personal Injury Law, Railroad Injuries (FELA), Maritime Injuries, Medical Malpractice, Products Liability, Wrongful Death, Toxic Torts, Class Action and Mass Tort Litigation, Automobile Accidents, Slip and Fall Cases, Commercial Litigation.
FIRM PROFILE
Walter Z. Steinman, Counselor at Law and Proctor in Admiralty, has forty years of experience as a plaintiffs' injury trial lawyer. The firm's sole priority is the representation of the best interests of each and every individual client and the goal of promptly obtaining for them the best possible compensation.
Since 1975, we have been engaged exclusively in plaintiffs' personal injury, wrongful death and mass tort litigation. The firm handles complex civil litigation matters in both state and federal courts, including Railroad and Maritime claims. Our practice has encompassed various types of work-related injury litigation including numerous FELA railroad worker injury claims against Amtrak. We have also successfully represented hundreds of maritime plaintiffs in the field of Jones Act injury claims for offshore oil workers, merchant seamen, commercial fishermen and divers, longshoremen's third-party claims and cruise line crew and passenger claims. A substantial portion of our practice also involves the representation of mass tort claimants arising out of negligent derailments, explosions and chemical releases. We have extensive experience litigating injury matters in various jurisdictions nationwide, especially in the Northeastern States and the Gulf Region States of Louisiana, Alabama and Texas.
Over the past twenty years, in addition to our Railroad and Maritime work, we have been actively engaged in representing numerous clients in connection with the 1995 Bogalusa/Gaylord Nitrogen Tetroxide Case, the 1998 Bogalusa Water Plant Chlorine Case, the 1999 Pearl River Polymers Case, the Eunice Union Pacific Derailment Case of May, 2000, the Tangipahoa Derailment Chemical Spill of October, 2001, the Slidell Thompson Meat Packers Ammonia Release of August, 2003, and the Gaylord/Temple-Inland Bogalusa Chemical Release of October 15, 2003. All of these cases involve mass tort litigation arising out of toxic chemical releases affecting the surrounding community. We handle these matters through a "team" approach, with each client represented by trial attorneys, paralegal assistants, and other support staff working together to provide comprehensive coverage. We utilize state-of-the-art computer systems and database software to manage all aspects of the litigation thereby enabling us to effectively generate the necessary legal work and efficiently communicate with our large groups of clients.
Our success in securing just compensation for our clients over the years has been assured through reliance upon our central tenet that fulfilling the best interests of each and every individual and obtaining the maximum compensation as quickly as possible must always be our top priority.